BUJU BANTON RELEASES HIGHLY ANTICIPATED NEW ALBUM BORN FOR GREATNESS VIA GARGAMEL MUSIC/ROC NATION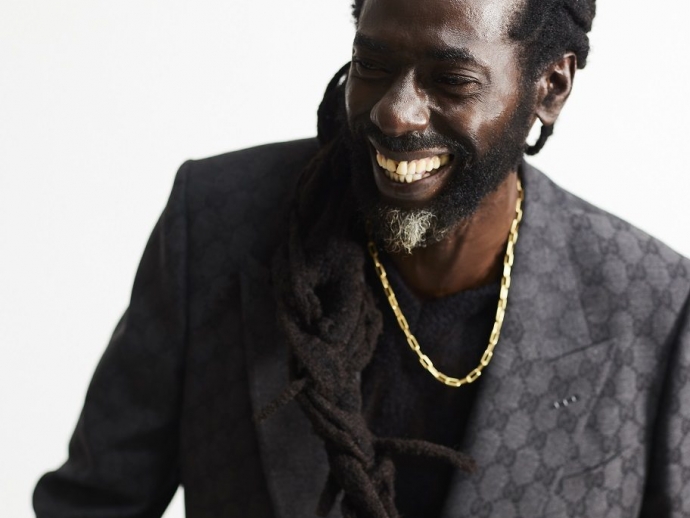 BUJU BANTON RELEASES HIGHLY ANTICIPATED NEW ALBUM
BORN FOR GREATNESS VIA GARGAMEL MUSIC/ROC NATION RECORDS/DEF JAM RECORDINGS

INCLUDES NEW SINGLE "BODY TOUCHING BODY" FEATURING VICTORIA MONÉT; SPECIAL GUESTS INCLUDE SNOOP DOGG & STEPHEN MARLEY
LISTEN HERE

September 8, 2023 – The moment has finally arrived! GRAMMY® winning, multiple Billboard chart-topping artist, and international reggae icon Buju Banton unveils his anticipated new album, Born For Greatness, today via Gargamel Music/ Roc Nation Records / Def Jam Recordings. Listen HERE.
This rich body of work continues his legacy as one of reggae's most influential, impactful, and inimitable figures. Among many highlights, the single "Body Touching Body" [feat. Victoria Monét] highlights his uncanny ability to seamlessly merge not only sounds and vibes, but cultures as well. Buju charismatically flows over a fluid beat anchored by steel drums and wah-drenched guitar, while Victoria heats up the song with a hypnotic R&B hook, "I wanna lie with you. Bonnie and Clyde with you, so I never have to miss you."
From the introspective acoustic guitar-driven opener "Ageless Time" through a choral chant for liberation uplifted by horns on the finale "Let My People Go," the album moves with the momentum of a big-screen epic, dipping in valleys of emotion only to rise with peaks of joy and victory as evidenced by "We Find A Way" and "Trial By Fire." Buju locks into a bold back-and-forth with Stephen Marley on the standout "Feel A Way."
Buju paved the way for the album with the title track "Born For Greatness." Receiving plugs from The Source and more, Reggaeville professed, "Born For Greatness is a testament to his lyrical talent, an opus with 17 pieces," and Ebro in the Morning sat down with him for wide-ranging interview about the record. DANCEHALLMAG noted, "Born For Greatness consists of 17 tracks, featuring an eclectic mix of solo performances and notable collaborations."

As a prelude, he dropped the catchy dancehall anthem "Coconut Wata (Sip)." Vibe wrote, "Powered by a breezy backdrop, the track finds Banton in a languid state, urging listeners to lay life's troubles to the wayside and enjoy the moment," going on to proclaim, "The Grammy Award-winning Roc Nation artist continues to make a big splash in 2023." Rap Radar hailed it as "fresh" and noted, "the Dancehall legend urges his followers to stay resilient during difficult times."

"Coconut Wata (Sip)" arrived on the heels of the global banger "High Life" featuring Snoop Dogg. In addition to plugs from HYPEBEAST, TMZ, and more, REVOLT hailed it as "perfect for the stoners' holiday," and HotNewHipHop proclaimed, 'High Life' is a perfect combination of their respective styles." Rap Radar attested, "the Kingston-native and the O.G. from the L.B.C. spread good vibes with the finest herbs," and Rolling Stone summed it up best as "Bumping."

Born For Greatness arrives as the full-length follow-up to 2020's universally acclaimed Upside Down 2020, which garnered a GRAMMY® nomination in the category of "Best Reggae Album" and earned rave "4-out-of-5 star" reviews on both sides of the pond from The Guardian and Rolling Stone, respectively.

Get ready to experience Born For Greatness!
TRACKLISTING
Ageless Time

Life Choices

Born For Greatness

Coconut Wata (Sip)

Yard and Outta Road

Body Touching Body (feat. Victoria Monét)

Turn Up Tonight

Sweeter

Feel A Way (feat. Stephen Marley)

Plans

Nuff Love For You

Walked Out

We Find A Way

My Microphone

High Life (feat. Snoop Dogg)

Trial By Fire

Let My People Go
Gabe Tesoriero
Def Jam Recordings
G.T@umusic.com
Jana Fleishman
Roc Nation
janaf@rocnation.com