GFA Kicks Off Major Grassroots Programme on Saturday at Mt.Rich Playing Field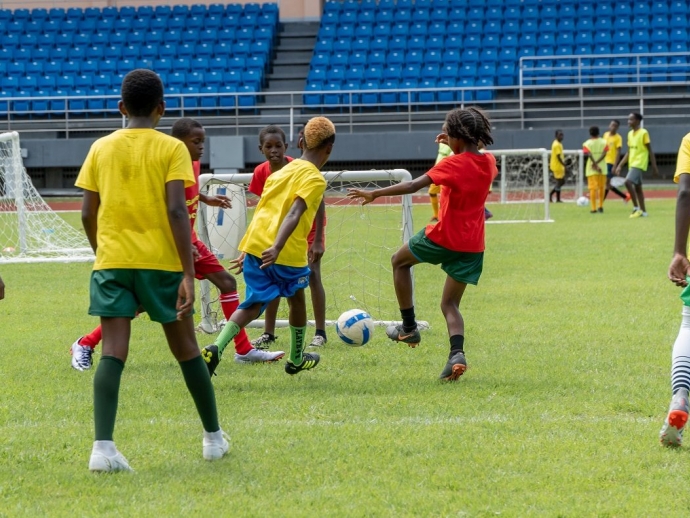 GFA Kicks Off Major Grassroots Programme on Saturday at Mt.Rich Playing Field
St.George's, 13th September, 2023 – The GFA National Grassroots Programme, a pivotal campaign promise of the new administration, is on the cusp of becoming a reality, marking a significant milestone in football development in Grenada, Carriacou, and Petite Martinique. This transformative initiative, championed by President Marlon Glean, is the strong foundation on which all other GFA programmes will be anchored.
President Glean and his administration have worked tirelessly towards the realization of this highly anticipated grassroots programme which will kick off on Saturday, September 16, 2023 at Mt. Rich Playing Field, commencing at 9 a.m. The programme's mission is to reach at least 5,000 boys and girls in the tri island state, giving them opportunities to enjoy playing football while learning the basics of the game.
At the grand opening of the grassroots programme, eager boys and girls will have the opportunity to register and embark on their exciting football journey. Following the kickoff at Mt. Rich, the programme will continue with launches at Morne Rouge and Carriacou on subsequent Saturdays. Additionally, as part of the initiative, every boy and girl will receive a GFA branded uniform.
GFA Technical Director Gifton Noel Williams expressed his enthusiasm for the upcoming launch. He emphasized the broader significance of the grassroots programme, stating, "I'm excited about the grassroots program; every child deserves the opportunity to play football if they want to. It's not just about becoming a professional or representing the national teams. It's about forging friendships that will endure and bonds that will last a lifetime. The grassroots program is a fantastic initiative that will ensure that every boy and girl in Grenada, Carriacou, and Petite Martinique can enjoy the beautiful game throughout the year."
The programme's initial phase will begin with 30 centres strategically located across the region, with plans for further expansion over time. President of the GFA Marlon Glean, shared his vision, saying, "Our intention is to bolster existing grassroots centres while establishing new ones in communities that lack such opportunities, ensuring that boys and girls across the nation have ample chances to partake in the sport they love."
The programme will cater to three (3) categories, U10s, U13s and U15s with opportunities for monthly interparish and national competitions.For inquiries and further information about the grassroots programme, please contact the Grenada Football Association at 440-9903.