Sandals Big Dreams Expo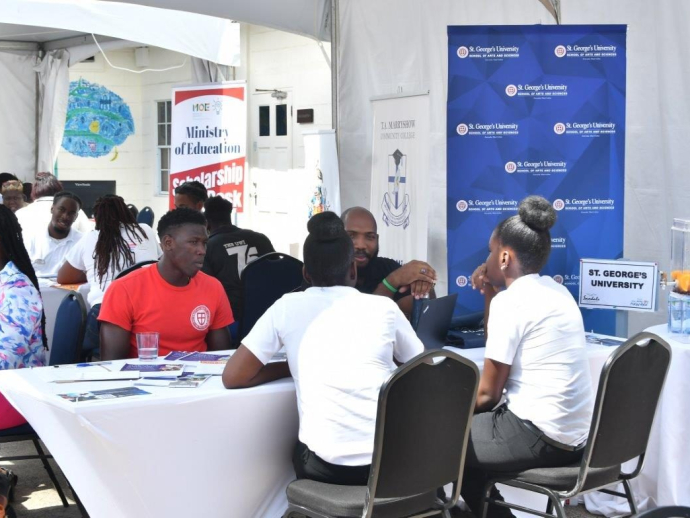 Sandals' Big Dreams Expo
Pink Gin Beach, Grenada, July 13, 2023- Scores of Sandals Grenada team members benefited from a Big Dreams Expo hosted at the resort in collaboration with key organizations on island. The event forms part of Sandals Resorts' Way Forward initiative, a robust programme aimed at encouraging team members to excel.
Offering one-on-one financial and investment advice at the expo were representatives from the Grenada Development Bank, ACB Grenada Bank, Ariza Credit Union, Nexa Credit Union and the Housing Authority of Grenada.
Advising on educational pursuits were representatives from the Scholarship Desk in the Ministry of Education, St. George's University (SGU), University of the West Indies (UWI), Grenada National Training Agency and T.A. Marryshow Community College.
General Manager Peter Fraser, spoke to the benefit of hosting the event "as much as we encourage and mentor our team, nothing beats hearing directly from the experts and we made it most convenient by bringing them right here on the job. Meeting the loans officers, consulting with the admissions personnel and establishing that direct contact can instill more confidence and provide the information required to get the ball rolling and add the impetus one may have needed to move forward with the imagined, converting it to reality."
Commending the resort's management on the initiative, Marcus Purcell, Marketing Manager for Nexa Credit Union shared, "Nexa is grateful for the opportunity to be a part of the Sandals Big Dreams Expo and we are satisfied with the participation of staff. We are dedicated to fostering a stronger financial relationship with the Sandals team."
Dr. Nicole Phillip- Dowe, head of the UWI Open Campus shared, "what an impressive event this is. We were able to meet with potential students and parents of potential students. There was also significant interest in our short courses. We have exchanged contact information with all interested and will do follow-ups in the coming days."
Also presenting their offerings was Hankey's Computer Store who gave special discounts for their visa application services. Additional advice on investments in small business and agriculture was provided by the Grenada Investments and Developments Corporation (GIDC) and the Grenada Network of Rural Producers (Grenrop).
Speaking to the true purpose of the event, lead coordinator and Human Resource Manager, Maxine Pierre added, "Sandals prides itself in the quality of service delivered by our team members and so we recognize that in providing this exceptional service to others in the hospitality industry, we sometimes forget ourselves. Our team members go above and beyond and it is only fitting to provide an opportunity for them to fuel their big dreams."
Pierre continued, "We recently launched Sandals 2.0, which is a new focus on our internal and external guests. Over the next couple months, our internal guests (team members) will experience different aspects of creating a refreshed employee culture. The interaction and interest from the team at the expo truly embodies the aim of our organization, which is to make work feel as comfortable and welcoming as home."
-END-
Sandals® Resorts:
Sandals® Resorts offers two people in love the most romantic, Luxury Included® vacation experience in the Caribbean. With 17 stunning beachfront settings in Jamaica, Antigua, Saint Lucia, The Bahamas, Barbados, Grenada, and Curaçao, Sandals Resorts offers more quality inclusions than any other resort company on the planet. Signature Love Nest Butler Suites® for the ultimate in privacy and service; butlers trained by the Guild of Professional English Butlers; the Red Lane Spa®; 5-Star Global Gourmet™ dining, ensuring top-shelf liquor, premium wines, and gourmet specialty restaurants; Aqua Centers with expert PADI® certification and training; fast Wi-Fi from beach to bedroom; and Sandals Customizable Weddings are all Sandals Resorts exclusives. Sandals Resorts is part of family-owned Sandals Resorts International (SRI), founded by the late Gordon "Butch" Stewart, which includes Beaches Resorts and is the Caribbean's leading all-inclusive resort company. For more information about the Sandals Resorts Luxury Included® difference, visit www.sandals.com.